Tech10 Accreditation Programme
Tech10 Programme for Post 16 Education & Training Providers
Join our mission to shape the future of tech education. With BCS Tech10 accreditation, you can show learners, employers and other stakeholders that your programmes satisfy the industry's most ambitious demands.
Attract learners looking to gain an edge in the employment market.

Prepare learners to excel in the workplace.

Prove to employers that your programmes produce a steady stream of outstanding talent.

Ensure your courses are relevant, engaging, and outstrip the competition.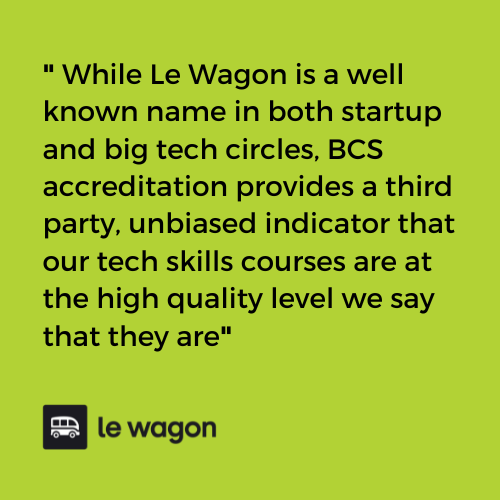 BCS Tech10 accreditation demonstrates that your digital technology programmes meet exacting standards. With our unique understanding of employers' needs and the requirements for students entering further and higher education, we ensure your learners gain vital skills that are prized by organisations all over the world.
We accredit a wide range of courses, from dedicated tech subjects like data science and web development, to separate vocational subjects that require digital skills.
Whatever the programme, we'll support you towards, and beyond accreditation so that you can be confident your offering is among the best in the industry.
Why Accredit Your Course With BCS
There are many reasons to join well respected and well known training providers like Le Wagon and Chichester College Group in offering programmes endorsed by the Chartered Institute for IT.
Gain Independent Validation
Set yourself apart from your competitors with tech courses that are recognised by the professional body for IT. Accreditation puts you on a par with the industry-leading organisations and universities that rely on BCS's seal of approval.
Attract Ambitious Learners
Learners favour qualifications that will help them enter and thrive in the world of work. Show them your programme will stand out to employers and give them the skills they need to flourish.
Equip Learners to Excel
Offer your learners an impressive CV along with game-changing skills they can transfer between roles. As well as technical expertise, BCS accredited programmes develop essential professional abilities such as legal and ethical decision-making.
Be Valued by Employers
Employers want candidates who add instant value to their teams, so build your reputation and credibility by creating a pipeline of exceptional talent for the industry. And when it comes to proving the value of your programmes to future employers, your BCS accreditation will do most of the talking for you.
Have Confidence in Your Courses
Get external assurance that your programmes are of high quality, preparing your learners to meet the professional standards of the digital and tech sector. As part of the accreditation process, we provide ongoing feedback that helps you continually improve your offering.
Introduce Learners to a Professional Community
BCS accredited programmes give learners access to dedicated area where they can access CPD tools, develop their PDP and enjoy some taster courses on the latest digital tools. If they decide to take up full BCS membership, they'll get direct access to a supportive community of industry experts and could progress onto full Chartered IT Professional status.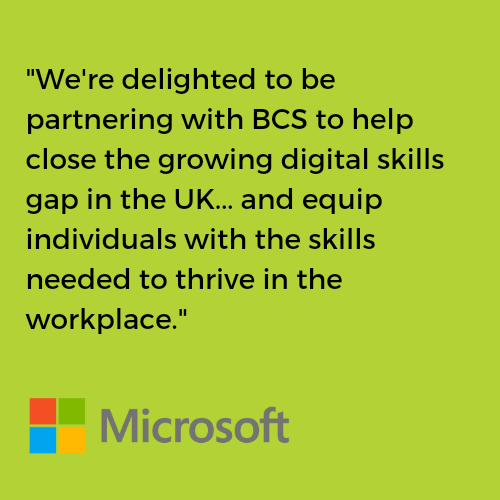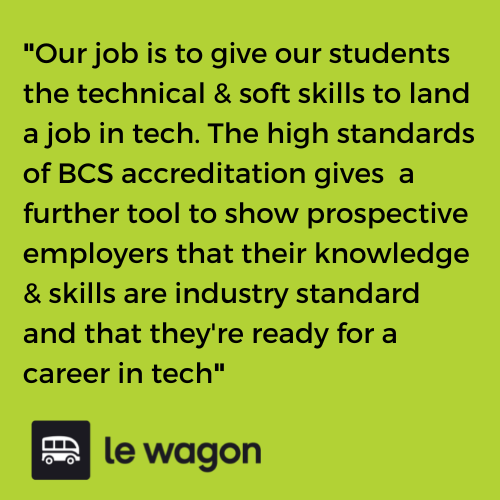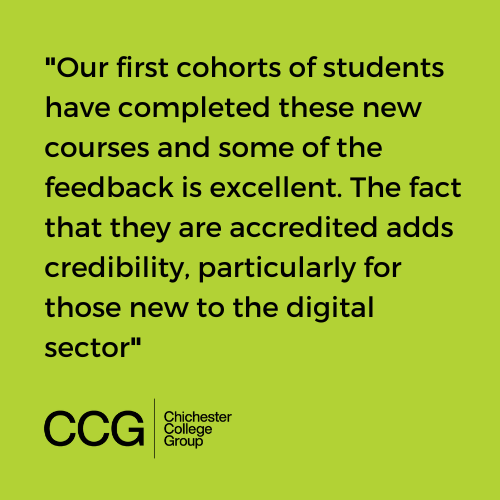 Benefits to Your Students & Learners
A BCS accredited course enables students to be ready to make their mark in one of the fastest-moving industries and tackle technology's greatest challenges. Here's why BCS accreditation is the obvious choice for you and your students:
BCS accredited courses meet the highest standards in the

tech industry. They prepare students to follow their ambitions and make an impact, whether they want to specialise or lead others towards success.

The skills taught are independently assessed, adding value and recognised by employers all over the world, to give advantage over other job applicants and increase employability.

As well as technical expertise, the BCS accreditation ensures vital professional skills such as effective teamwork and ethical decision-making are included.

Accredited courses gear students up for the industry's future demands, teaching transferable skills to support career progression with technical know-how.

On successful completion, students receive a digital badge to showcase their BCS accredited course and gain access to a dedicated area of MyBCS providing exclusive learning, CPD tools and resources.

Completion also gives 20% off BCS membership, which offers access to a supportive community of industry experts and the opportunity to progress on to full Chartered IT Professional status.
Hear what Heba Malik, Programme Manager at Le Wagon had to say in conversation with Lucy Ireland, MD BCS Learning & Development, about how their Bootcamp students benefit
from taking a course accredited with BCS Tech10
How to Get your
Courses Accredited
We can guide you through the process to get your digital courses accredited by BCS, step by step.
The programme has been designed to be as straight forward and transparent as possible and we will work closely with you at each stage.
The starting point is to contact us and have an informal chat about your courses - topics, formats, levels etc and we can advise the best way to approach the accreditation process.
Fill in your details below and a member of our Accreditation Team will get back to you within a couple of days.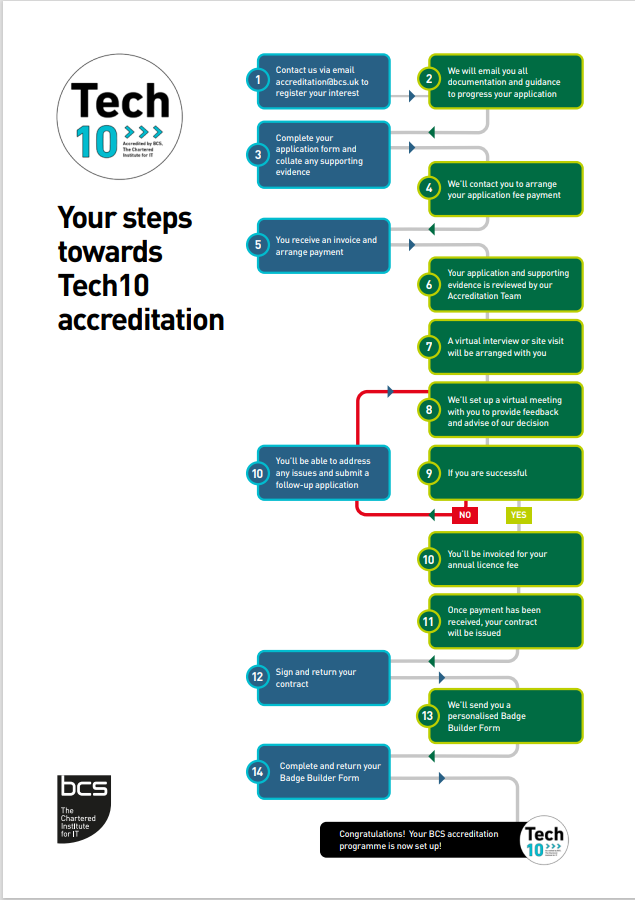 We follow a rigorous process to ensure only the highest quality programmes carry the weight of BCS accreditation. Are you ready to take the first steps towards the Tech10 Accreditation? Or simply would like to find out more?
We Have Accredited Courses Delivered by These Organisations